WEAPONS(Don't count as abilities I just put them here since I don't know where to put weapons,the swords are infused with magic)
Ebony
Image: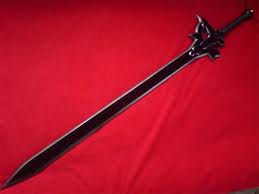 Very light and takes a long time to dull out.Never rusts.
Ivory
Image:http:
Same as Ebony but different color.
MuzaHir
Image: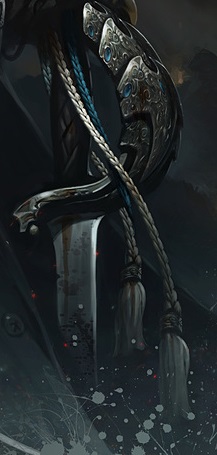 Made of adamantine metal.Nearly indestructible.The only known way to destroy it is to melt it.It never dulls out.
Ice Chains
Description:A set of two,three foot long ice chains that Gajeel channels his energy too.The chains are heavy and are charcoal black.Given his strength to him they seem to weight 1-2 pounds each,when in reality they are about 20-30 pounds each.They are made of adamantine.(He doesn't like using any other metal since they are not nearly as durable)
Abilities
Breed:Wolf
Magic Veins
Base:Earth
Tier II Lightning
Tier I Ice
Monster Strength
Breed:Wolf
Effect:Being a wolf,he has incredible physical strength.His own magic ability.Being able to channel his energy into specific parts of his body to dramatically increase his strength and power.He can know petrified trees down with a single punch.
Cooldown:Lasts 10 posts and cools down for 5
Alchemy
Earth
Effects:Can deconstruct and re-construct the the atoms of something and make it into something else.(Cannot be fused with magic).I have to clap my hands to activate it and then touch the material.The materials can only be altered of they are available.Like making an iron swords from the iron in someone's blood.Any of the 118 elements on the periodic table(except the noble gasses) can be altered.They can take on almost any shape that Gajeel can think of.(EX.Gajeel can make salt by taking sodium from the ground and chlorine from the air.Can turn coal into diamonds since he adjusts the hardness and pressure in the atoms.(which making precious metals and jewelry from
alchemy is forbidden as well and transmuting living things.)
Can only use it once at a time per every clap.1 clap is 1 thing created.Takes three posts to cool down.
Cost:For something to be created,something of equal value must be lost.There must be some sort of material (not including the air or water) to be able to reconstruct the atoms to form something else.
Divine Punishment
Lightning
Effect:Powerful ionic energy is condensed and released bombarding the opponent with an immense amount of power.Light beams rain down from the sky covering an area of 50 feet.Can be blocked with a reflective or non conductor element such as earth or rubber or aluminum. It ignores other defenses.
Cooldown:10 posts,the sun or moon must be visible
Healing Factor
Lightning
Effect:Heals wounds and regains some lost energy.It also debuffs all other status effects such as poison or disease.Regenerated lost limbs and organs.Bones are healed and damage caused by others adds energy to him.Can only be used when in Savage Beast Mode.
Cooldown:5 posts
Roar
Lightning,Earth and Ice
Sends out a blast of either Lightning,Iron,or Ice.It is powerful enough to destroy diamond.The blast is 5 feet wide and anything that comes in contact within a 20 foot radius of the blast is pulled in before the blast occurs.Cannot pull Gajeel in.
Cost:Can only use one element at a time and the user has to have his mouth open.
Copy Cat
Light/Ice/Earth
Any one move or ability that is dealt can be copied once with equal strength.If copied 3 times the ability is permanently learned if it falls under Ice,Earth,or Lightning magic.He can channel extra energy from himself to make the copied attack stronger.
Cost:The energy used by the castor is the same energy the opponent used plus the energy he used to cast it.
Savage Beast Mode
Lightning/Earth/Ice(exclusive to him)
The users overall ability strength doubles,the eyes turn red and,long black triangular stripes goes down the users back and the outlines of the eyes are darkened.He has the ability to open the Elemental Gates.
Cost:His body is worked out and if left for too long he will be very tired.(30 posts at maximum)
Great Arc Of Destruction
Lightning
Produces a small sphere of huge energy.Once the ball is formed Gajeel places it in his mouth then his stomach expands as well as his jaw and it lets out a beam of destructive energy.It's capable of wiping out a wide area but it will use an immense amount of energy making him tired after the use.Spans 180 degrees and covers over 200 feet.The mass of the massive bomb pulls in opponents before exploding causing massive damage.In Savage Beast Mode the strength is doubled meaning it covers 400 feet.
Cost:Takes a long time to prepare the attack.He can't move much while preparing the attack which leaves him vulnerable.Takes about 2 posts to charge.
Maker Magic
Ice,Earth,Lightning
Effect:Allows him to make different shapes and projectiles etc. with Ice,Fire,Water,and air.Cannot alter earth.
Active.To activate he has to his left hand into a fist and extend the palm of his right and holds his arms back and he has to say "Ice Make,Earth Make,Light Make" then follow with what you want to create.(Think of Grey Fullbuster from Fairy Tail some of these are inspired from animes).Maximum height and width of anything created is 20 feet.
Drawback:Can only use it once at a time and cannot make machines from them.Must have moisture in the air to form ice.
Heal
Light
Effect:Heals the wounds of others and status effects.If that person has lost a limb,it is regenerated.Heals broken bones.
Cooldown:3 posts
Ice Beam
Ice
Effect:Shoots out a cold energy beam that freezes anything in its path.The beams glows a bright blue and it emits from his hands.The frozen area that the beam hits spreads the ice further.At most it can freeze over 100 feet.
Drawback:It affects only one spot and but you can drag the beam around.Cool down is 2 posts.
Light Speed
Lightning
Effect:Doubles his speed and makes it so it is very difficult for the eye to follow him move.He is quiet and light on his feet.
Cooldown:Lasts 5 posts cools down for 4
Ebony and Ivory Star Burst Stream
Lightning
Effect:Both Ebony and Ivory do a single slash that create a wave of lightning bolts that cut through almost anything.Anything within a 30 foot radius will be shocked with an immense amount of electricity.
Cost:Must have Ebony and Ivory equipped for it to work.
Slash Dance Sequence Stage
Lightning
All three swords are equipped and Gajeel moves at incredible speed and delivers a series of powerful,accurate cuts strengthened  by light energy.
Cooldown:Lasts 2 posts and cools down for 3.
Absolute Zero
Ice
Effect:Uses the moisture in the air to freeze every non-organic object solid.It can be used in multiple ways as well as the range and power of the freeze.Think of this as a buffed up Ice Beam.Range is about 10-100 feet.The ice is about two feet thick and it doubles the strength of ice magic.
Cooldown:5 Posts
Ice Chains
Type:Ice
Effect:Gajeel channels his energy the the two chains around his arms.He can use with the following three forms with separate effects.
Ice Chain:Artic Punishment
The water in the air is frozen as dagger like blades of ice form on each link of the chains.If the opponent is struck they are left with deep wounds and gashes that seep energy into their bodies causing that affected area to freeze.
Ice Chain:Frozen Edge
The chains are extended and completely frozen over to create a sword-like appearance.Instead of a sharp blade that cuts right through it is covered by a layer of icicle spines that change shape depending on what needs to be cut.From a simple sharp edge to a serrated blade it causes major damage and slowly freezes over anything it hits.
Ice Chain:Ionic Vortex
By gathering all the water in the air within a 5 foot radius Gajeel swings the chains over his head at an alarmingly fast rate as energy from his magic creates a twister that is covered by a thick blinding twister.The twister is made of dagger like blades of ice that have condensed lightning which makes them explode on contact.Anything within a 100 foot radius is sucked in and frozen solid while being pelted with ice shards.(Doesn't affect the user.)
Limits/Cooldown:
Ice Chain:Artic Punishment/Lasts 5 posts and cools down for 3.The freezing of wounds only affects organic matter and water.
Ice Chain:Frozen Edge/Lasts 6 posts and cools down for 3.Affect both organic matter and inorganic matter but only organic matter is frozen when hit.
Ice Chain:Ionic Vortex/Lasts 4 posts and cools down for 6.The chains cannot be used at all withing those 6 posts of cool down.
Ionic Freeze
Type:Ice/Lightning
Effect:The caster summons massive spikes of ice 7 feet tall and 3 feet in girth.They span out within a 100 foot area and they are charged with a large amount of electric energy.Whatever organic touches them will cause the lightning to freeze within the spires and explode. Whatever organic material the explosion hits is coated with a heavy ice that continues to spread over the afflicted area, freezing it. Coating spreads for three posts.The heavy ice weight the opponent down.The spikes automatically explode after ten posts. The spikes can also be auto-detonated with a snap of the user's fingers. One per post.
Cooldown:Lasts 10 posts and cools down for 5.
Ionic Chain Bond
Type:Earth/Lightning
Effect:Chains rise up from the ground and follow up to 3 opponents and ensnaring them in their place within a 100 foot radius.Once they are bonded by the chains,a powerful electric shock invades the flesh paralyzing their nerves and causing major internal burns.
Cooldown: Lasts 6 posts.They follow the opponent for 2 posts and after being bounded,they are rendered heavily damaged and completely paralyzed after the 6th post.Cools down for 4 posts.