Firaster
Awaiting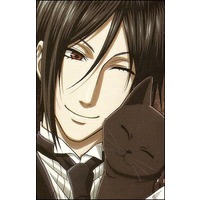 Posts

: 5


Join date

: 2013-11-20


Subject: Re: Black + Butler Sun Mar 16, 2014 9:59 am

---

On that hot day, I had no choice but to go to the market in order to buy some supplies I needed for the rest of the week. And what a difficulty it was to find decent quality these days...

Sighing, I still managed to find some good fruits and vegetable, as well as some quality meat, but my resources were reaching their limit. For such a small town, they were asking enormous prices for their things, even if it was of cheap quality. And with my lack of work lately, I could only watchas my finances were diminishing slowly but surely.

After quite some time of examinating some merchant tables, I felt as if I was watched, observed from farther away. With caution, I gave a small look in the direction from which I was having this feeling and noticed a human with a black blade on the side. My, my, something was telling me he was onto something, but what could it have been about?
Sponsored content

Subject: Re: Black + Butler

---