Name: Eiyuu Ou
Type: Time
Effect: This ability allows Zechs to summon any deceased hero from the past, and bring them fourth to the battlefield, and they only carry two abilities, one attack and one passive. The following heroes Zechs can summon:
Saber: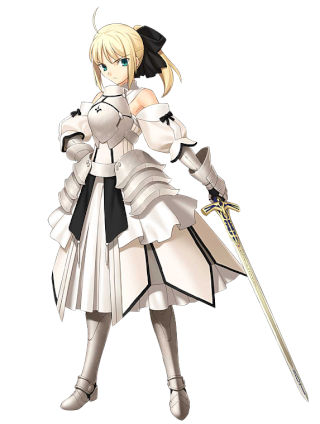 (Active) Sword of Promised Victory: Excalibur gathers overwhelming power in the blade, glowing a bright, magnificent yellow color, and releases its power in the form of a 45 foot yellow beam of light. While the attack appears to be a yellow beam, it is only the tip of the wave that attacks, as the beam is the result of the "dislocation" of everything the attack destroys in its path. 4 post cooldown.
(Passive) Magic Resistance: The immense magical power from Saber's dragon blood grants her a very strong Magic Resistance, and is capable of neutralizing nearly any magic attack or projectile. Lasts five posts. 2 post cooldown.
Gilgamesh: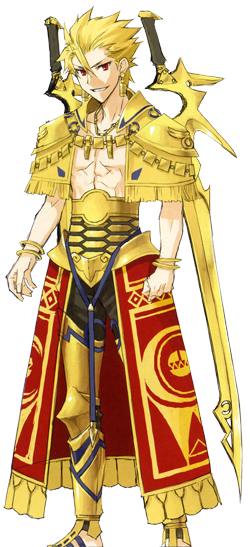 (Active) Gate of Babylon: The treasury of Gilgamesh holds all of the weapons he has claimed. With the snap of his fingers, he is able to summon the weapons from golden ripples in thin air, and fire them all at his opponent at bullet-like speeds. The weapon count ranges from 10-25 at a time. 2 post cooldown.
(Passive) Throne of Heaven-soaring King: Is an airborne vessel that grants Gilgamesh the ability of flight. He can also freely use Gate of Babylon to launch projectiles while piloting the vessel, and summon shields to block midair projectiles. Lasts five posts. Takes three to recharge.
Berserker: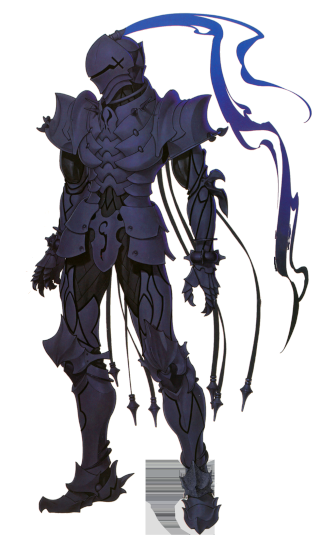 (Active) Knight of Honor: A Knight Does Not Die with Empty Hands: Once Berserker grabs hold of anything that can be even remotely conceptualized as a weapon by his own recognition with his gauntlets and he recognizes that he wishes to wield it, it instantly gains the property of "becoming his Noble Phantasm." It allows for something as worthless as a piece of scrap iron to be turned into a demonic spear or sword capable of striking legendary weapons. Can only wield one changed item at a time.
(Passive) For someone's Glory: His body is enveloped in a black fog which constantly shifts his outline like an off-focus photograph that obscures the discerning features of the armor. The mist-like illusion also causes his image to double or triple randomly, making him appear to be a hallucination, and prevents people to read the status of Berserker. This also allows Berserker to gain speed and strength for every attack that damages him.
Lancer: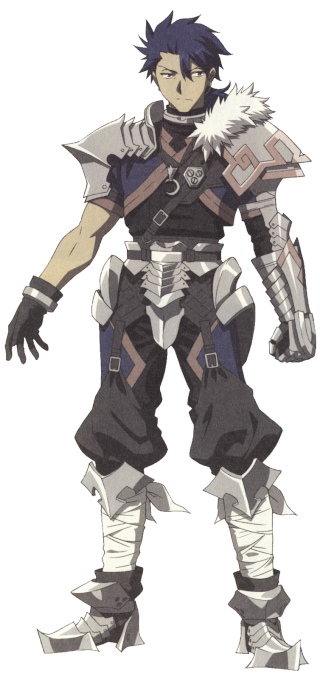 (Active) The Golden Rose of Mortality: When an injury caused by Gae Buidhe hits, the curse of mortality makes it so the wound itself cannot be healed naturally or by magic and hinders the limb the spear hits. 5 post cooldown.
(Passive) Eye of the Mind: Lancer is able to look into the soul of his opponent, and have it reveal to him the abilities of his opponent, and allow him the chance to find counters around it or tell his team mates. Once per summon. Can only reveal one ability.
Limits/Cost/Cooldown: Servant lasts 5 posts. 4 to recharge. Can only bring 3 Servants into a topic. Only one Servant at a time.